Edinburgh to Glencoe Tour
Glencoe Tour from Edinburgh and Other Locations in Scotland
£1100 for Tour and Transport
Day Trip to Glencoe from Edinburgh or any Location in Scotland
Tour Departures
From your accommodation anywhere in Scotland
Tour Costs
£1100 for tour and transport, for exclusive use of our bus for you and your friends or family.
Our bus can accommodate 16 passengers.
Inclusions
Transport by luxury mini coach for a more
personal experience.
Services of a professional Heartland Travel driver/guide.
Attractions
We can arrange for you to visit attractions on our tour but they are not included in the price.
Visit Glencoe Courtesy of our Luxury Day Trip
Starting our Edinburgh to Glencoe tour we will Depart from Edinburgh, we head for the Southern Highlands taking us past the striking view of Stirling Castle perched up on the castle rock, a gigantic volcanic plug.
The next part of the journey takes us through the fertile farmlands of the lowlands. As we then pass the Highland Boundary Fault Line, the scenery changes immediately to rugged mountains and beautiful shimmering Lochs. Centuries ago, these lands were where you would find the Scottish Clans, specifically, this area was home to the famous MacGregors. The leader of that Clan ( The Chieftain ) was one of Scotland's most infamous men, Rob Roy MacGregor.
Heading north on our Glencoe tour from Edinburgh
As we travel further north, the scenery gets more spectacular with every mile. We will stop often for photographs and for a chance for you to breathe in the pure mountain air.
Lunch will be in the harbour town of Oban with the opportunity to have seafood, fresh from the sea. This picturesque little seaside town has a wonderful traditional feel with great shops for buying souvenirs of your trip.
Next photo opportunity will be Castle Stalker, a scenic castle enclosed by water located 25 miles north of Oban.
Now we visit Glencoe
We will then travel through Scotland's most famous valley, Glencoe. The glen itself is steeped in history and your driver guide will tell you the incredible tales of this haunting Glen.
The southbound leg of the day trip to Glencoe from Edinburgh
Travelling south we will pass the magnificent mountain of Buachaille Etive Mor you go down towards the wild Rannoch Moor. This landscape is covered by peat-bogs  and heather and will amaze you by its desolate beauty.
Loch Lomond
Loch Lomond is next on our Itinerary with the last stop at the village of Luss on the bonny banks of the Loch.
From Luss, we head home and say our final good byes as we end our Edinburgh to Glencoe tour.
Glencoe Tour from Edinburgh Enquiry Form
Watch this intriguing video featuring Glencoe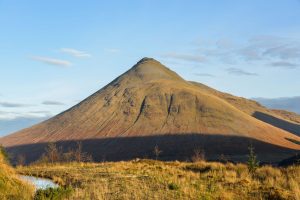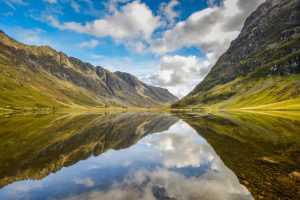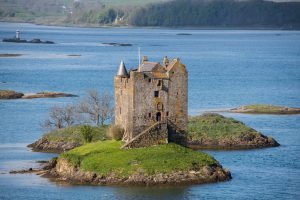 Book an Edinburgh to Glencoe tour
At Heartland Travel we have a selection of tours which include Glencoe. Our 3-day Isle of Skye tour makes its way through Rannoch Moor, passing by the Glencoe ski Centre, then on to the spectacular Glen itself.
Glencoe has a haunting atmosphere and is often referred to as the 'Glen of Weeping' due to the massacre that took place in the valley on the 13th of February 1692. This murderous act was executed by the Campbells against the Clan McDonald. More than 30 lives were taken at the order of the King.
On the Classic 4-day Isle of Skye and Inverness tour, we include Glencoe as part of the ultimate journey through the Highlands. On this journey you will have the opportunity to see the village of Glencoe, at the far end of the glen, and enjoy some lunch at the Glencoe Visitor Centre.
The Centre, operated by the National Trust for Scotland, includes an exhibition, café, shop and a wonderful viewing platform giving you an amazing perspective of Glencoe.
Bespoke opportunities to visit Glencoe
If you have chosen a private, bespoke tour and where we are creating something tailor made for you, we will be working closely with you to create the perfect itinerary. We would usually recommend, if possible, to include Glencoe in our route as it is one of Scotland's most spectacular areas.
One clear advantage of choosing a bespoke tour is that you are involved in the planning from the very start. If you want to spend more time in the Glencoe area, then this can be arranged.
There are many incredible walks in the area with to suit a variety of levels. Such as the Lost Valley (or Hidden Glen) which is a vast area between two mountains. This surprising glen is so well hidden from the outset. This route provides a tantalising reward at the top – soon into the route upward, the path opens and provides a meadowlike sense in the valley.
If you are an experienced hiker and enjoy a challenge, a day spent hiking the Aonach Eagach. This is an exposed scrambling along the ridge between Am Bodach and Stob Coire Leith. Experience and a head for heights is required.
Edinburgh to Glencoe Tour via the Trossachs
Heading north to leave Stirling's distinctive flood plain and volcanic outcrops behind, and the landscape becomes more rugged. This terrain beguiled the Romantics, including Ruskin and Millais, also inspiring Sir Walter Scott's 1810 poem The Lady of the Lake and his later historical novel Rob Roy.
This is the home of Scotland's first National Park: Loch Lomond and the Trossachs National Park. Its footprint covers 720 square miles of lochs, glens, and mountains, boasting unparalleled biodiversity. Rivers are clear, ospreys still soar above ancient deciduous trees, and squirrels are bright flashes of red, not grey.
Further north is the stark landscape of Rannoch moor, close to where filmmakers created Claire's mysterious disappearance in Outlander.  Traverse the moor to Glencoe, perhaps Scotland's most emblematic glen, whose silver waters are towered over by Buachaille Etive Mor and The Three Sisters peaks. Glencoe's terrible beauty is perhaps best experienced in less clement weather, when mists deepen the silence and communicate something of this landscape's unsettling past.
The massacre of the clan MacDonald here in 1692 fuelled the Jacobite uprisings of 1715 and 1745, and went on to capture the imaginations of authors throughout the centuries. This striking landscape has also caught the eye of filmmakers to provide backdrops for Harry Potter and the Prisoner of Azkaban in 2003, and more recently, for the 2012 James Bond movie, Skyfall.
Discover more Glencoe Tours from Edinburgh
Departs Stirling, Dundee and St Andrews
Learn more and book today
Maëlle P wrote a review Mar 2020
tours of scotland reviews
"One word: WONDERFUL ! I've book for a Three-days trip and it was an unique experience. Nori is very enriching and full of anecdotes. A real warrior against the wild wind we had ! I highly recommend this trip !"
Steph wrote a review Mar 2020
Edinburgh to Glencoe Tour
Review of: 4 Day classic Isle of Skye and Inverness tour "I did the 3-day tour of the Scottish Highlands with fantastic Nori. Scotland is beautiful and Nori definitely shows some of the best spots and is very knowledgeable about his country. I would highly recommend this tour to anyone, it's a great length of time, with a nice group number, a fantastic guide and amazing Scotland. Thank you!"
Jean-Denis P wrote a review Feb 2020
tours of scotland reviews
For our first time in Scotland and on the Edinburgh to Glencoe Tour. Nory was able to enchant us and highlight the magnificent landscapes that the highlands could offer us. We recommend traveling with Nory. He knows how to put a great atmosphere within the group by communicating all his positive energy to make us spend an unforgettable moment. We will not say more at the risk of spoiling you! Thanks again Nory!
Taylor Thompson wrote a review Feb 2020
Edinburgh to Glencoe Tour
I am a study abroad student and I have to say that the three day trip to the highlands by far has been my best experience in Scotland. If nothing else go for the banter, singing, and stories that Nory brings on the car rides! This weekend brought us some wild weather, and other than not seeing the Old Man of Storr (for safety reasons), we stuck through it and had a great time. Nory even substituted another location for not being able to see it. The Stationmaster's lodge was a super fun stay, and food was great with the best haggis in Scotland, and some French uni students to make crepes. Would totally recommend this trip to anyone looking to go to the highlands and not sure of where to start!
Olivier Chamboredon wrote a review Feb 2020
Edinburgh to Glencoe Tour
This tour content is already amazing but Nory is making it even better! Gorgeous landscape, great accommodation and awesome guide, everything was better than expected ! Thank you very much! Olivier
Marc-Antoine G wrote a review Feb 2020
tours of scotland reviews
Having this trip was very great because as French people I don't know the great places to visit in the highlands that are not very touristic. We saw a lot of places and we even could dive (not for a very long time though) in the loch Ness. Moreover, the bus driver, Norri, is very cool nice and, funny, always making sure you have a great time. He told us lots of stories about the Scottish history and culture. The house where we stayed for the nights was really great and not too expensive for the quality it has Finally, for the people who want to experience stunning landscapes and a bit of typical Scottish climate, this tour is made for you.
Petra wrote a review Dec 2019
Edinburgh to Glencoe Tour
We joined the 4 days tour in September and it was the best trip ever! Nory loves Scotland, his job and his his family and you can feel that in the way he tells you about. He has so many interesting stories to tell about Scottish history and life in Scotland - in his special way that touches your heart. It was just like being on a trip with a good old friend. We didn't care about the Scottish weather we had the first two and a half days. All the very special places he showed us were really breathtaking and so beautiful. Time went by too fast and so we will come back to Scotland for sure. We will never forget this amazing trip from Edinburgh to Glencoe Tour. Thanks to Nory...
Michael LaRusso wrote a review Nov 2019
The ideal Scottish tour
Nory was able to provide delicate insight into Scotland; delving into economics, social issues, and the politics between itself and England that provided great depth to the tour. Serious points such as these paired with a fantastic amount of intriguing stories made sure there was never a dull moment! The scenery we were taken to was also simply the best, any point we were at could have been placed on a postcard.
Rebecca wrote a review Nov 2019
The Best Thing I Did in Scotland
I went on the three day tour of the Isle of Skye and the Highlands, and this was by far the best trip I have done in Scotland. Nory is the best tour guide and story teller. He is always prepared to give you a good laugh, and he has an incredible playlist to listen to as you drive through the Highlands and Scottish towns. You are never in the the bus for a long time, because you make frequent stops for pictures or bathroom breaks. No matter the weather, never skip out on something because you will regret it! Bring good hiking and waterproof shoes!! He took us to the most beautiful places in Scotland and probably the entire world. I am so so so incredible grateful and will never forget this weekend. Thank you Nory for being amazing and offering to show everything Scotland has to offer. Scotland is a remarkable country, and because of this weekend I LOVE SCOTLAND!!
Terry M wrote a review Sep 2019
Nory is the best!
Nory led our 6-day tour for 16 people. He kept us informed and entertained for the entire trip. I would highly recommend his company.
tlck49 wrote a review Sep 2019
Edinburgh to Glencoe Tour
This tour is a once in a life time opportunity for so many reasons. Nory is an incredible tour guide and story teller. He shares his knowledge and passion for Scotland in such a special way that you will never forget this experience. We loved learning about the history and legends, as we travelled through this stunning landscape. Nory ensures that everyone's needs are met and he really creates a lovely atmosphere on the bus. We felt like we were travelling with family. The other reviews for this tour are absolutely true. It is obvious that a lot of thought and planning has gone into organizing the itinerary to ensure that people get a spectacular experience in the HIghlands.When we reflect back on our time spent in the UK, this tour was the best of the best. Nory LOVES Scotland and we now LOVE Scotland too. Thank-you so much Nory. It was a fantastic trip!
wildsparrow wrote a review Sep 2019
4-Day Trip to Skye and Inverness was Magical!
You can't find a better tour guide or itinerary in Scotland if you want to hear great stories, be entertained even in the rain, and find adventure and magic. The beauty of the countryside in the highlands was breathtaking and Nory's commentary made it all come alive. I can't imagine seeing it any other way. We had a small group of five and six with Nory, so it was a small happy family touring around. Skye was beautiful, and the travel to Inverness included so many memorable sights. Now every time I raise a glass I will think of Scotland! Slangevar!
sisterchat wrote a review Aug 2019
SPECTACULAR 4-day Classic Skye/Inverness Tour
Hands down highlight of our 3-week UK trip. The scenery is spectacular no matter how you travel. What truly set this tour apart was our guide, Nory, and the small group size. Nory is extraordinarily knowledgeable, personable and fun--with a wealth of information about the history and culture of the Scottish Highlands and Isle of Skye. He is a gifted story teller, loves his job and loves his guests. Treated us all like family. Can't recommend highly enough.
Mathijs Standaert wrote a review May 2019
Edinburgh to Glencoe Tour
Edinburgh to Glencoe Tour. This will be one of the most awesome, memorable trips you'll ever have taken. PERIOD. Three days to enjoy a full Highland / Isle of Skye experience. You'll truly be mesmerized by the beauty of the Scottish landscapes you'll travel through. Simply breathtaking. Nory, the tour guide, is just the most wonderful storyteller. The passion and vividness by which he takes you through history, fairytales and legends is just otherworldly. He also enjoys a good laugh, truly a lovable guy, just the best… Also, touring with other travelers from all over the world is an experience on its own. It's just lovely and the conversations you'll have are immensely interesting. Thank you Nory and my fellow travelers, thank you Heartland Travel Scotland! I'll be sure to recommend you to everyone and hopefully I'll get to travel with you again someday!
Alice M wrote a review May 2019
tours of scotland reviews
The brand new bus of the company (first travel) get us in front of the University of Dundee, and then we were gone for three adventurous days of discovery. Nory, our guide, was perfect, all in one kind, warm, full of stories and anecdotes, and with a very strong sense of humor. The three days, even if exhausting were a succession of discoveries all more surpising and breathtaking than others. And the lodge, reserved for our group only was really comfy and charming ! I would totally go to another tour with them if I get the chance and I hardly recommend them!
Emma Massoud wrote a review May 2019
Edinburgh to Glencoe Tour
This was the most incredible trip I have been on. The whole experience was an enlightening journey into the history of the amazing nation that is Scotland. Nory is the an truly enchanting and captivating story teller who brought the Highlands to life through his amazing historical knowledge, passion, unforgettable jokes as well as amazing facts, I came back to the city just wanting to be back in the beauty of the Munro's and lochs! I have seen the most unforgettable sights, in the most scenic places the atmosphere of the Highlands and history I learned has really been an inspiration as well as the amazing people I experienced it with. The lodge in the most idyllic Stromferry is fantastic with everything you need, you could not ask for more the lodge is as great as it's surrounding scenery. It has the most amazing views you would want to wake up to every morning. I think everyone should see the beauty and amazing importance of Scotland which I don't think I would have experienced in such a fantastic and unforgettable way if it wasn't for Heartland Travel and Nory who really brought it to life and I recommend to everyone, this beats any of the large companies they don't give you the passion and true beauty that Nory showed me, thank you 🙂 I will be back to explore more with you!