Isle of Skye Tours from Edinburgh
4 Day Classic Inverness and Isle of Skye Tour
Explore the best that Scotland has to offer with an Isle of Skye tour from Edinburgh
When you travel across Scotland to the Isle of Skye from Edinburgh, the places you'll visit and the sights you'll see will stay with you for the rest of your life.
Edinburgh city itself, with its rich history and vibrant culture, is a great place to start your journey. Edinburgh Castle is a must see when visiting Scotland. But the city, with all its galleries and museums, will capture your heart and fill your first few days. And there is so much more to enjoy in this beautiful part of the country, not least the Isle of Skye.
Your truly memorable 4-day Edinburgh to Isle of Skye tour
Our Isle of Skye tour from Edinburgh is the perfect opportunity to open your heart and mind and experience the best that Scotland has to offer.
On our luxury 16-seater coach, you'll be able to sit back and relax in comfort as you immerse yourself in the splendid views that surround you.
Our expert tour guides are travel-loving locals, brimming with knowledge and ready to show you the most amazing sights, whilst sharing fascinating tales and intriguing secrets of all the marvellous destinations you're about to experience.
Our tours are tried and tested to show you the best of our incredible country, to meet its friendly people and to fulfil your dreams for exploring the wonder of the Scottish Highlands.
Check out some of the Isle of Skye from Edinburgh tour highlights:
Ready to book your Edinburgh to Isle of Skye experience? Book now to secure your spot.
Questions? Scroll down to browse our FAQs, or get in touch with our expert Scottish tour guide team who will be happy to assist you.
(children aged between 6-12 years old and students: £325 per person)**
*The cost of accommodation is NOT included in the tour price. Please click on "accommodation details" for more information below. **We welcome children who are over 6 years old. Sorry, but for our Isle of Skye tour from Edinburgh we do not carry younger children or infants as this can be unsettling for other passengers.
Simply choose the type of accommodation from the options below when you book your tour and we will make your reservation. You will then pay for accomadation on your arrival.
The cost of accommodation is not included in the tour price.
Average costs per night below:
Hostel: £20– £30
B&B: £70 -£100 Single B&B: £80 – £150 Double
B&B: £250 – Family room
Hotel: £130 – £300 Single
Hotel: £160 – £380 Double
Hotel: Family room up to £450
If you wish to book your own accommodation for our Isle of Skye tour from Edinburgh, there is an option to do this. It must be in Portree on Skye for 2 nights (nights 1 and 2), and within the city of Inverness for one night (night 3).
Your Edinburgh to Isle of Skye itinerary
Starting your journey from Edinburgh to the Isle of Skye, your itinerary will be filled with some of Scotland's finest sights. Our expert tour guide's suggestion for the first leg of the journey is to spend a while in the ancient town of Stirling, where there are many great attractions to admire.
From Stirling Castle, known as the 'key to the kingdom of Scotland', to the town's famous landmark the National Wallace Monument, there is much to take in and plenty to photograph.
Continuing north on your journey to the Isle of Skye from Edinburgh, you'll pass through the spectacular Glencoe. We strongly recommend you plan ample time to enjoy this wonderful Scottish Highlands village, so that you can take in the mountain air and venture along the well-marked hiking paths.
Travelling onward through the Scottish Highlands, your journey will naturally lead you to the world famous Loch Ness. Whether you stop off for a spot of monster hunting, take a boat trip out onto the enchanting freshwater loch, or visit the remains of the 13th century Urquhart Castle, you're sure to leave with lasting memories. Want to know more? Take a look at the full day-by-day itinerary below.
Book Your Isle of Skye from Edinburgh Tour Today
Your Full Edinburgh to Isle of Skye Tour Itinerary
Select the the day to view the full itinerary below:
Day 1
Departing Edinburgh to Isle of Skye
We will be departing from the bustle of Edinburgh to start this classic tour.
Leaving Edinburgh, we will be travelling north west on the motorway (freeway) and will soon arrive at a quieter area as we reach the outskirts of Stirling.
First Stop – Callander and Refreshments
It's then onto the picturesque town of Callander, situated on the banks of the River Teith in the heart of the Trossachs. We will have time here to stop for refreshments and facilities.
As we continue north, the glorious mountains and tranquil lochs will provide us with a dramatic backdrop on our journey to Glencoe, one of the highlights of our Edinburgh to Isle of Skye tour.
The Beauty of Glencoe
This is probably one of the most well known of Scotland's glens with an important story to tell. This narrow valley is also where the bloody massacre of the Macdonalds took place in 1692.
Our guides will be able to enlighten you with tales from this part of the country and why it will never be forgotten.
We will have time to stop at the Glencoe National Nature Reserve Visitor Centre and enjoy some panoramic views whilst refuelling on some tasty food at the café.
Onward to Fort William and Ben Nevis, and Harry Potter Country
In the afternoon, we will travel further north west, passing by Fort William. During this section of the journey we should be able to catch sight of Ben Nevis, the UK's highest mountain.
From there we will be following the Road to the Isles, which will lead us on to the town of Mallaig.
On the way we will visit the Glenfinnan Viaduct where the Hogwarts Express train thundered over the bridge in Harry Potter and the Chamber of Secrets film. It also features on subsequent Harry Potter films, The Prisoner of Azkaban and The Goblet of Fire.
Mallaig to Isle of Skye
As we arrive at Mallaig, we will get ready to take the ferry* leading us over the sea to Armadale on the Isle of Skye.
When we reach the Isle of Skye from Edinburgh, we will be travelling to the town of Portree and taking you on to your selected accommodation.
*Please note there's a £10 supplement per person for ferry crossing. This is a seasonal ferry and subject to timetable variations. Alternative routes may be taken.
Day 2
Day 3
Day 4
Award Winning Isle of Skye from Edinburgh Tours
"Scotland is beautiful and Nori definitely shows some of the best spots and is very knowledgeable about his country. I would highly recommend this tour to anyone, it's a great length of time, with a nice group number, a fantastic guide and amazing Scotland. Thank you!"
"We joined the 4 days tour in September and it was the best trip ever! Nory loves Scotland, his job and his family and you can feel that in the way he tells you about...Time went by too fast and so we will come back to Scotland for sure. We will never forget this amazing trip."
"This tour is a once in a life time opportunity for so many reasons. Nory is an incredible tour guide and story teller. He shares his knowledge and passion for Scotland in such a special way that you will never forget this experience. Nory LOVES Scotland and we now LOVE Scotland too."
Book Your Isle Of Skye Tour from Edinburgh
Beat the stampede and jump aboard our classic 4-day tour to Inverness and the Isle of Skye from Edinburgh. Travelling through spectacular Highland scenery, highlights include Glencoe, Fairy Pools of Skye and the world famous Loch Ness.
Isle of Skye Tour from Edinburgh Booking Form
Select your departure date from our calendar and book your Edinburgh to Isle of Skye tour today.
Searching Availability...
Edinburgh to Isle of Skye Tours FAQs
Want To Know More About Heartland Travel?
Discover our story and our mission to create the best tours of Scotland
Why not take a look at some of our other tours of Scotland?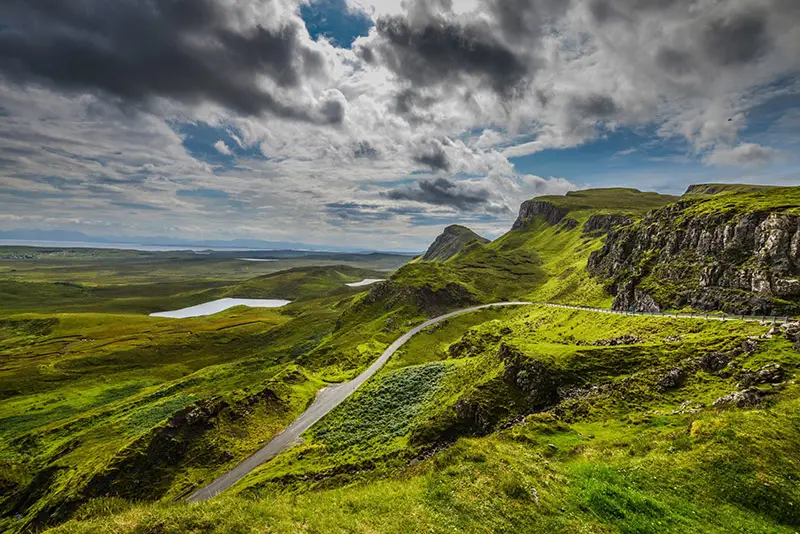 Three-Day Highlands, Skye and Loch Ness Tour
Spend a memorable long weekend in the Scottish Highlands. Departs Stirling, Dundee and St Andrews.
Create Your Own Bespoke Scotland Tour
Design your own personal tour of Scotland. Create lifelong memories with a private tour on your terms