Plan Your Own Customised Private Tours Of Scotland
Luxury private Scotland tours On YOUR terms
So you're planning a trip to Scotland. Congratulations! What a great choice you've made. We are one of the most exciting, historical and friendly countries you could choose to visit, and here at Heartland Travel you get to plan your own tailored private tour of the country. 
You know about all the main sites – Loch Ness, Edinburgh Castle, The Isle of Skye. But you're looking for a little more; something more personal and customised. You don't want to be just one of the other 133 million day tourists who visit Scotland each year.
Well, you came to the right place. With private tours of Scotland, you can experience our beautiful country and come away with a little more than the same travel photos every other tourist has. You get to experience the country with a local and not just scratch the surface.
Want to be let in on the secrets? Well, here are some of Scotland's best spots that aren't crawling with tourists and come on the recommendation of locals. Let's dive in, shall we!
"Scotland is beautiful and Nori definitely shows some of the best spots and is very knowledgeable about his country. I would highly recommend this tour to anyone, it's a great length of time, with a nice group number, a fantastic guide and amazing Scotland. Thank you!"
"We joined the 4 days tour in September and it was the best trip ever! Nory loves Scotland, his job and his family and you can feel that in the way he tells you about...Time went by too fast and so we will come back to Scotland for sure. We will never forget this amazing trip."
"This tour is a once in a life time opportunity for so many reasons. Nory is an incredible tour guide and story teller. He shares his knowledge and passion for Scotland in such a special way that you will never forget this experience. Nory LOVES Scotland and we now LOVE Scotland too."
Private Group Tours Scotland – Designed Just for YOU
We can tell you are incredibly excited about coming to Scotland by now. If you weren't sold on the landscapes, it was the architecture or the history or the gastronomy scene or our famed hospitality.
Of course, your tour can include the historical Edinburgh or the metropolitan Glasgow, but we want to show you more than that. That's why we can tailor your tour to suit your preferences.
You want to see dolphins but hate castles, we can organise that. Prefer whisky over lochs, that can be arranged. Not bothered by castles but obsessed with white sand beaches, we got you.
Wherever you choose to visit, you can be sure that your guide has an abundance of local expertise to make your experience unforgettable.
Contact us about your private tour of Scotland today
Choose your private group tour of Scotland and prepare to indulge your all senses
Select one of our private Scotland tours, customise your own tour to create your perfect Scottish vacation dream. With our help, we can create a tour to meet your exact requirements.
Local Advice From Your Private Scotland Tours Specialists – What to Bring and When to Visit
You should be prepared for all weather eventualities when visiting Scotland! Make sure you have sunglasses, a warm jumper and a rain jacket packed with you at all times. It is possible you can experience all seasons in the space of a few hours.
The sunniest and warmest month to visit Scotland is probably May. During the summer months, it doesn't get dark until about 10 pm, even later in the Highlands. This means you can still go walking at night and enjoy the long hours of daylight.
Create Memories that Last a Lifetime with Private Small Group Tours of Scotland
You should be prepared for all weather eventualities when visiting Scotland! Make sure you have sunglasses, a warm jumper and a rain jacket packed with you at all times. It is possible you can experience all seasons in the space of a few hours.
The sunniest and warmest month to visit Scotland is probably May. During the summer months, it doesn't get dark until about 10 pm, even later in the Highlands. This means you can still go walking at night and enjoy the long hours of daylight.
Customised private tours of Scotland from Edinburgh and more
Our extensive knowledge of Scotland is second to none. This gives us the ability to create a specialised itinerary for your exact needs and can take you to all of places on your Scottish bucket list, as well as showing you some of the places we believe must not be missed. Ready to make your private Scotland tours enquiry? We're ready and waiting to hear from you.
Luxury Private Group Tours Scotland - Enquiry Form
Private tours of Scotland, prices start from £900 per day for exclusive hire of our luxury mini coach and professional driver/guide. Our vehicles can accommodate up to 16 passengers.
Tell us about your private Scotland tours dreams…
What makes our private Scotland tours different from our scheduled tours?
Our bespoke private tours of Scotland will be customised exclusively for you. We will aim to create something very special for you, fulfilling your desires and showing you the very best Scotland has to offer. With our expertise and your wishes in mind, we will create a tour appealing to you and your group of friends or family. Whether you wish to travel at a slow or busy pace, we will be able to take care of your precise needs.
Working with us and with our help, you get to choose every aspect of your private Scotland tours.
Above are some examples of private tours of Scotland you can take some inspiration from.
Is there a remote part of the Highlands you've always wanted to see? Have you always wanted to do a tour of Scotland's most iconic sights but don't know where to start in planning it? Are you too busy to arrange the trip of a lifetime?
We are expert at taking your glimmer of an idea and building it into a unique private bus tour just for you. Simply tell us what you would like to see, and we will plan our route, book accommodation, schedule breaks and viewpoints, and take all the hassle out of building your unforgettable private tours of Scotland.
You needn't even have a firm idea of the places you would like to visit. What are your interests? Photography? Geology? Wildlife? Outlander? We can create a themed tour that's inspired by your interests, rather than by the classic tourist spots.
Once we've created your tour and we are on the road, you and your party will have our bus and driver to yourself – so there is plenty of scope for spontaneity. If you love that view that's passing your window, we'll stop the bus for photos or a stroll. Don't worry too much about the itinerary – we'll look after that to ensure everything runs smoothly.
We know Scotland intimately, and can help you discover it in just the way you want to. Phone us or write to us and tell us your idea for a private tour of Scotland. Just an idea – that's all we need.
Lastly, as the world seems different and the way you are planning your holidays may have changed, a private tours of Scotland for you and your family could be the best way to see our wonderful country. We can plan your private Scotland tours, ensuring that you are staying with accommodation providers we have worked with for years and we know are extremely professional on how they look after their guest.
Explore the Magic of Scotland with Private Tours: Unforgettable Experiences Await
Discover the enchanting beauty and rich history of Scotland through private tours that promise exclusive experiences tailored just for you. From majestic castles and breathtaking landscapes to traditional distilleries and hidden gem locations, Scotland has it all. Embark on a journey through this captivating country and delve into its iconic attractions, fascinating legends, and warm hospitality.
As Scotland's tourism industry continues to boom, private tours have become increasingly popular among visitors seeking personalized itineraries and a more immersive travel experience. No longer just a dream, these tours offer you the opportunity to explore Scotland's hidden treasures, delve into its ancient history, and marvel at its stunning natural wonders.
Whether you are a whisky connoisseur yearning to uncover the secrets of Scotland's finest distilleries, a history enthusiast eager to walk in the footsteps of renowned Scottish heroes, or simply an adventurer curious to discover the untamed Scottish wilderness, private tours provide the ultimate platform to create unforgettable memories.
So, why settle for a typical tour when you can indulge in the luxury of a private adventure in Scotland? Allow yourself to be whisked away on a personalized tour that showcases the best of this captivating country, while enjoying the flexibility and attention to detail that private tours provide. Embark on an extraordinary journey and uncover the magic of Scotland. Book your private tour today and create memories that will last a lifetime.
Edinburgh to Isle of Skye Tours FAQs
Possibly the best way to see Scotland is on one of our luxury private tours of Scotland. We have been creating tours for our guests for many years and have a wealth of experience in delivering small group tours of Scotland.
Sitting down and planning your holiday can be a daunting task, reading through the Lonely Plant-Scottish edition, or spending countless hours Googling thing to see and do in Scotland. All of this can result in you going to overly touristy destinations.
Heartland Travel take pride in our wealth of local knowledge. Our driver guided have a true passion for our country and are experts on the road less travelled. Consider us to be your friendly local with eyes and ears to the ground.
We also understand that when creating your luxury private tours of Scotland that there will be some "must sees" on your list of places to visit. Working with us, we will develop your luxury private tour of Scotland to create a perfect balance of famous locations, such as the Old Man of Storr on the Isle of Skye or Loch Ness, alongside some of the amazing places we know about which go beyond the Guide books.
We can create and develop Itinerary's for any area in Scotland but what we are often asked for are Highland private tours.The Highlands of Scotland are truly magnificent and wondrous with so many locations to choose from. It really requires some expertise to taylor a journey to ensure your Highland private tours exceeds your expectations.
How it works
You tell us a few of the locations you know of that you would like to add to your Highland private tours, and we will create an itinerary specific to your personal requirements.
Some of the places we would suggest you include on your travels are Glencoe, Glen Sheil, Bealach na Bà and even the North Coast 500 to name but a few.
For examples of our Highland private tours click here
Want to know more about Heartland Travel?
Discover our story and our mission to create the best tours of Scotland
Why not take a look at some of our group tours of Scotland?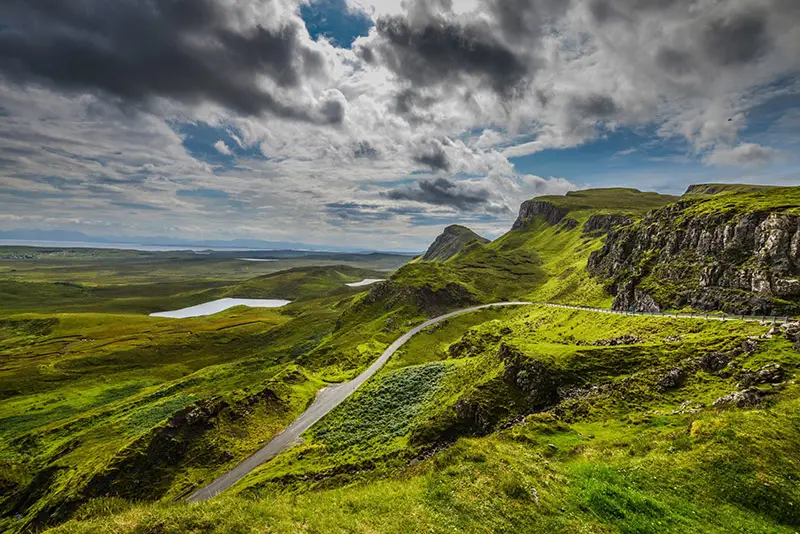 Three-Day Highlands, Skye and Loch Ness Tour
Spend a memorable long weekend in the Scottish Highlands. Departs Stirling, Dundee and St Andrews.
Four-Day Classic Inverness and Isle of Skye Tour
When you travel to the Isle of Skye from Edinburgh, the places you'll visit and the sights you'll see will stay with you forever.